Yachting Options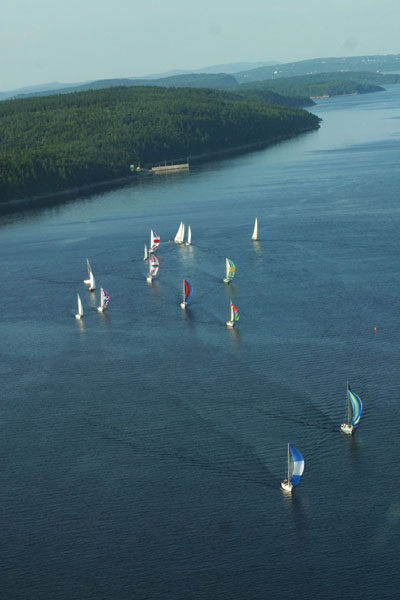 Yachting on the river North of The Moorings • More Photos
Located in Brothers Cove in Millidgeville, The Moorings is an ideal location for a yacht owner. Brothers Cove is a well known anchorage just off the Kennebecasis River. The Kennebecasis joins the St. John River just half a mile away. Yachts that visit the area make this their home away from home with the Royal Kennebeccasis Yacht Club (RKYC) providing fuel, water, a haul out if needed, and a wastewater pump out facility.
The St. John River is known far and wide as "The Rhine of America" and offers fabulous boating. There are numerous branches off the River where you can anchor or tie up at a wharf. Larger deep keel yachts are easily accommodated and the river valley has spectacular scenery as you ghost along. Salmon jumping just add to the delightful feeling you get when sailing on this true yachting paradise.
For ocean racers or long-range cruisers, the St. John River empties into the Bay of Fundy which in turn opens to the Atlantic Ocean. Yachts from the RKYC have participated in the Marblehead to Halifax Ocean Race, the Newport to Bermuda Race, Several crews from the RKYC have crossed the Atlantic and there have been numerous visits to the Caribbean by yachts from the Club.
Perhaps you are thinking of a cottage or Summer Home too?
Satisfy the urge to be "on the water" but have all the amenities a cottage is lacking. Build yourself a year round home right on the waters edge at "The Moorings" and enjoy "the country life" yet be less than 10 minutes from Uptown. If you have errands to run or need that last minute item from the grocery store or pharmacy everything is near at hand. Plus, you are only minutes away from the theatres, Harbour Station and all other Saint John entertainment venues when there is something you wish to attend. The fact the leading hospital in the province is less than 2 miles away by road is a distinct advantage to the residents of The Moorings of Millidgeville©.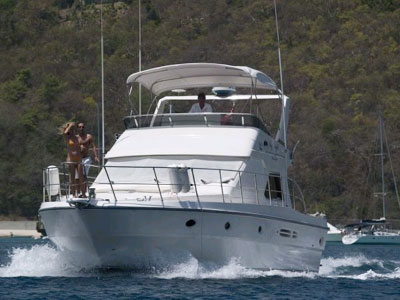 Power boating is popular on the river too • More Photos
The lots in The Moorings of Millidgeville© cater to the person who recognizes the uniqueness of the location, the high level of services, and the value of building their upscale home on an appropriate valued lot that suits it and won't detract from its value. Because of the development's unparalleled location directly across from the RKYC anchorage; the boating activity centre in Southern NB, there is no equivalent waterfront subdivision.
Often realtors will speak of waterfront lots when what they really mean is lots with a water view. True waterfront lots have an easily accessible shoreline. A floating dock at your shoreline is the norm. If you live in The Moorings you can moor your boat right in front of your home. For boaters, there is no finer location for your new home than The Moorings of Millidgeville©!