The Community of Saint John

Saint John Population
122, 389 (2006)
Climate
Saint John has a temperate coastal climate. Average summer temperatures are 71°F, 22°C in the summer and 25°F, -3.9°C in the winter.
Location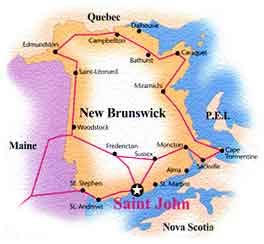 Saint John, New Brunswick, is located on Atlantic Canada's Bay of Fundy at the mouth of the St. John River and is the largest city in the province of New Brunswick.
Saint John is a 1-hour drive from the U.S. border at Calais, Maine, an 8-hour drive from Boston, a 12-hour drive from New York City, a 10-hour drive from Montreal and a 4-hour drive from Halifax, Nova Scotia,
Saint John is a two-hour flight from Toronto, a one-hour flight from Montreal and just 45 minutes from Halifax. Air Canada provides several daily direct flights to Toronto, Montreal and Halifax.
The Saint John Airport is located 16 KM (10 miles) from the centre of the city. The cost for a cab to Uptown Saint John is approximately $25 one-way. An official shuttle service operates corresponding with the time of major arrivals and departures. Airport limousine service is available for approximately $35 per trip.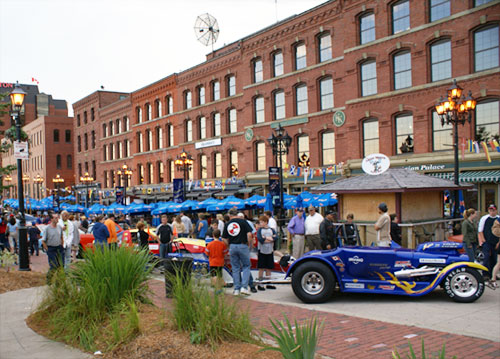 Market Square • More Photos
Culture, Sports, Health & Recreation
The fabulous Imperial Theatre refurbished to all its glorious splendour, regularly hosts plays, recitals, ballet and entertainment from around the world. Harbour Station is our newest rink/arena and in addition to ice hockey, is the venue for numerous concerts and events. The New Bruswick Museum has two locations in Saint John. The area hosts several top-notch golf clubs, four yacht clubs and there are numerous tennis facilities around the City.
For people who enjoy swimming there are lots of sandy beaches in summer and the YMCA or Aquatic Centre in the cooler months. Saint John has two hospitals and several clinics with the Saint John Regional Hospital being the largest in the Province, renowned for its specialties, which include acute coronary care. The Moorings is less than two miles from the Regional hospital.
Time Zone
New Brunswick is on Atlantic Daylight Time. Entering New Brunswick from Maine or Quebec, set your watch ahead one hour.
Saint John is on the move!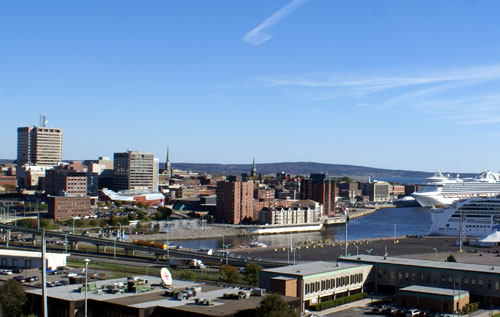 Uptown Saint John from Fort Howe • More Photos
Saint John, New Brunswick, with a regional population of 175,000, is New Brunswick's largest urban centre and operates an aggressive "true growth" agenda. Saint John has an increasingly diverse economy focusing on the following growth sectors: energy, advanced manufacturing, health sciences, tourism and information and communications technology (including a variety of global e-commerce, customer service, remote development, shared service and back office facilities).
Saint John recently launched the initial phase of a $250 Million redevelopment of its historic waterfront and internationally recognized Trinity Royal Heritage District.
The last decade has been a period of exceptional economic growth in Saint John with the arrival or expansion of major multinationals such as Xerox, IBM, Unilever, Iron Mountain, Centerbeam, Exxon Mobil, Eddie Bauer and Cendant Corporation. In 2004 alone, the Saint John economy created 2,900 new jobs, or one in four new jobs in New Brunswick. Last year the region was also the beneficiary of over $1 Billion in new capital expenditures through plant expansions or equipment upgrades at Irving Oil, Irving Paper, Wirsbo - Uponor Manufacturing, NB Power and Moosehead Breweries.
True Growth Indicators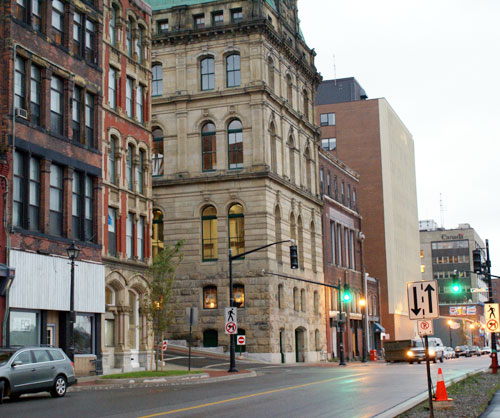 Water Street in Uptown Saint John • More Photos
Labour force up 3% or 2,000 people in 2004.
Employment levels up 5% or 2,900 people in 2004.
There were a record 62,200 people working in Saint John as of December 31, 2004, up 8,500 jobs or 14% from the peak of the Patrol Frigate Program at Saint John Shipbuilding in 1996. It should be noted that during this same period the community lost 5000 direct jobs at the shipyard. As a community we made up these 5,000 direct job losses and created an additional 8,500 new jobs, for a net new job creation total of 13,500!
Record low year-end 2004 unemployment rate (below the Provincial and National unemployment rate): 6.2%.
Housing starts up 92% in last five years.
Multiple unit starts up 327% in last five years.
Average MLS housing resale prices up 44% in the last four years (one of the fastest growth rates in the country).
Over 300,000 sq.ft. of new retail big box space built in the past 12 months.
$25 Million in new commercial, residential or tourism investments underway or pending in our Uptown and Waterfront.
Record levels of new business start-up activity with a particular focus on the knowledge or information and communications technology sector.
Over $1 Billion in plant and equipment investments in 2004.
Additional $3 Billion in new energy - advanced manufacturing projects anticipated over the next five years.
More Information
For more information about Saint John, visit our list of external links.